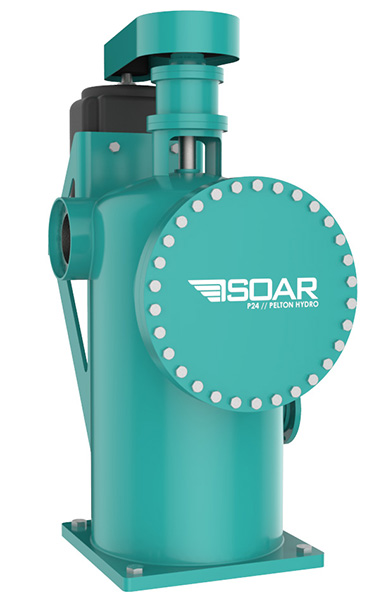 Pelton Hydro Turbine
Pelton Series, PELTON-XX
6″-30″ Pipe Sizes
50-3,000 Feet Head
0.5-1,800 GPM Flow Rates
Application support /
Purchasing information
425-861-8870
Soar@soartechinc.com
SOAR's Pelton series of turbines are ideal for high head applications and maintain efficiency over significant variable flow rate variations. Unlike conventional pelton turbines, discharge pressures are greater than atmosphere so typical applications are tank fill sites where reservoirs are higher in elevation than the turbine. These turbines are custom built and site-specific to achieve maximum power generation.
The Pelton Turbine utilizes an impulse runner placed within a sealed and pressurized chamber. Water hammer is completely eliminated due to the chamber's open air operation and a deflection plate adjusts flow to maintain efficiency over fluctuating site conditions. Sites with high inlet pressures and discharge pressures below 30ft are ideal.
Packaged systems are available with all necessary components from generation to power grid connectivity.
Manufactured and assembled in the USA.